Boiler Installations
New installs and upgrades
Your boiler is one of the most relied upon appliances in your home so it is really important and makes sense for you to have it maintained annually. Without your boiler, you are left with no heating and no hot water which none of us would want to be without. Most boilers have on average a life span of between 10 and 15 years but like all appliances, at some point they will breakdown and need renewing. New boilers are more reliable than older models so the need for them to be repaired will be greatly reduced saving you a lot of money. They can make the most of condensing technology which means they make better use of the heat energy they generate. Some new boilers have a built in Self Diagnosis tool that detects any faults that may occur. This makes it easier for us to identify any issues the boiler may have and will help us to fix the problem in the most time efficient manner. Dash Plumbing & Heating specialise in fast and efficient boiler installations and upgrades. As a company, it is important to know and fully understand which specific gas boilers are best suited to the different types of central heating systems and obviously to your home.
Advantages to having a new boiler:
Increased Efficiency
Increased Savings
Reliability
Less repair work needed
Self-Diagnosis tool that detects faults
Which boiler is right for you?
It can sometimes be difficult choosing the correct boiler. There are a number of things that you will have to look at prior to making this decision. Such as the size of your home, what types of pipes are connecting your system or how many heaters are located on your central heating system. We will give you all the advice needed to help you to decide what type of boiler to go for that will be more efficient and will save you money. Three types of boilers you can choose from.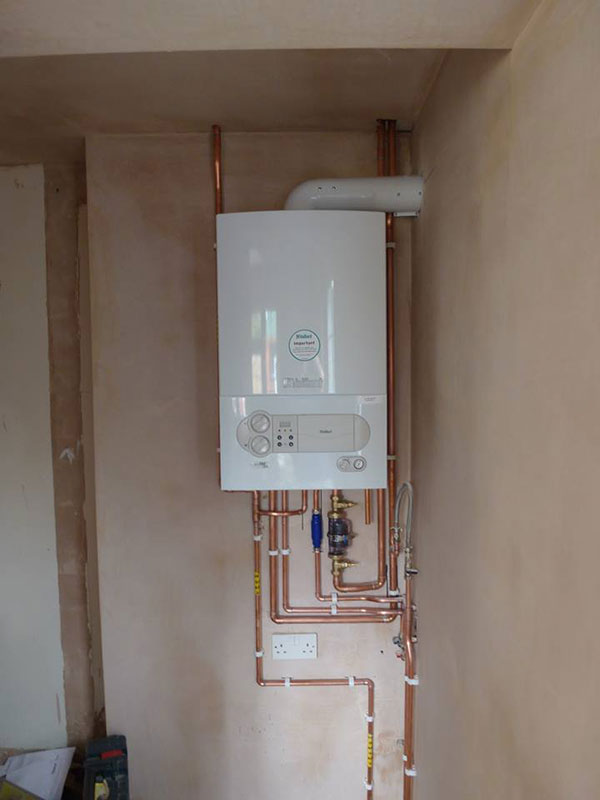 Combi Boiler
The Combi Boiler, also known as a combination boiler is the most popular boiler in the UK. It provides hot water and heating without the need for a storage tank. Hot water is heated on demand so it does not require a water cylinder. These boilers are ideal for flats and small properties.
Standard Boiler
The Standard boiler also Known as a regular or a vent boiler, requires a tank and cylinder in order to function. It will heat your central heating system directly and produces hot water for your cylinder. One of the benefits of this type of boiler is that you can get hot water from multiple taps at a time. System boiler A system boiler works on the principle of stored hot water. It differs from a regular boiler in 2 ways
Many of the major individual components of the heating and hot water system are built into the system boiler, meaning the installation is quicker, neater, easier and more efficient.
The hot water is pumped from the system boiler through the heating system to the radiators and hot water cylinder, resulting in a fast response and more economical running costs.
Of course there are many more to choose from. You can contact myself at Dash Plumbing & Heating to get more information about this service.
Upgrading your boiler
If your boiler is over 10 years old then you can guarantee it is wasting a lot of valuable energy. This is true for both the cost and environmental impact it is having. In fact it is most likely only converting 60% of the fuel it is using into heat. If you choose to upgrade your boiler and take advantage of what the latest technology has to offer, then we can help you improve its efficiency to over 90%. The end result of this could be you saving a massive 30% on your heating bills.